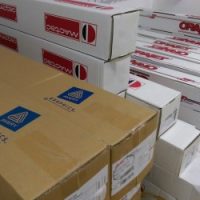 Hong Kong Factory and Material Library
Greenbase AD Limited have material library to stock variety brand and types of materials. In addition, we purchased a variety of high-quality advertising materials from oversea, including Mactac , Avery , 3M , Oracal, Orajet and Ritrama etc.

Our workshops are open to clients, our specialties will help you to select material towards your need, and detail work progress. Clients are welcome to oversee the work progress and check on the products.
Professional grade Inkjet Printers
To fulfill customer's requirements, we keep our professional inkjet printers and equipment up-to-date. Buy in new large format printers, and we purchase the new ink formulation does not contain harmful substances. Such as the ink made from corn oil, which is natural material that complies with international environmental certification requirements.
We promise not to adopt poor quality ink; all products are using original ink to print, to ensure the best quality.

Nickel Free (無鎳認證)

EPSON LFP (無鎳環保墨水認證)

Greenguard Gold (符合室內空氣品質的國際環保認證)

ECOLOGO (UL環保認證)

FSC (國際原料認證)